Season 5



3/27/07, Race #14 -- The Glen

Bill's Report: Well, the Glen was an interesting end to a l-o-n-g season, spanning 14 races in eight months. Nobody can say that they didn't have enough time to practice for the races!

Qualifying was a bit of a surprise for me when one of my better Glen laps (1:09.57) showed me on the pole with just 3 minutes left. Great! So I went out with race fuel load for a bit. Obviously John and Rich held off 'til the end of Q for their serious runs, and when I came in a few minutes later I had been relegated to third on the grid. Ah yes, the real world-----.

On the grid it was apparent that John was missing from the pole position, and I assumed that the merciless disco demon had struck for yet another time. Only at race end did I find out that John had given us all a head start and started from the pit lane, an absolutely bizarre last item in John's incredible streak of BAD! for this season.

I had one of my better races, with no major errors. And the first half of the race I was able to stay within audible range of Rich. In the last half, Rich, with fast consistent lapping, slowly eased away to the final 3+ second margin at the finish.

Looking at the replay, it could well have been John's race, as he had the race's fast lap for all but two of the 33 laps. And the last five or so laps were hotly contested, with John chasing down Tom. Tom was just about matching John's pursuit for several laps, and might well have held him off 'til the end. Only getting a bit sideways on the last turn in the penultimate lap enabled the opening for John's passing. Good show guys!!

And so the season ends, with the "rookie" Rich Korman the overwhelming Season Champ. Congratulations Rich!!! A champ has to- Consistently show up Come prepared Have good HW, SW, and ISP Run fast, consistent laps And this season, Rich has shown the highest level of all these.

Well done!!
---
3/13/07, Race #13 -- Mosport

Rich's Report: No problem John, in the replay the revs on your tach dropped a bunch as you rounded the corner as I was putting a wheel in the dirt and with your slow up there was still plenty of room between us but then your tach revved up hard as you got back onto the accelerator and that's when your nose and my gearbox got together. Looks like you overestimated that Lotus and thought it'd be up to speed a whole lot sooner than it actually did.

After getting going again it was several laps later while coming 'round through the bottom of Clayton Corner that I spotted JD King's Ferrari coming out of a spin. It was a toss up whether to go left or right to avoid contact. I picked his right side, bad choice, we made contact and off into the grass I went.

Got back on track and several laps later caught up to Bill but I just couldn't get by him. That must have been around lap 8 or 9 I'm guessing. I followed him looking for a passing opportunity for a long time. Then around the 20th lap or so he went wide exiting White's Corner and put a wheel into the grass which was just enough for me to get alongside of him as we headed down the front straight. As we approached the bend I knew he was right beside me so I slowed enough to keep a tight inside line so as not to drift into his lane, but we made contact anyway. The replay shows a couple of feet of thin air separate us and we didn't even touch, though you'd never guess by looking at Bill's spinning Lotus. That was a shame for our long battle to end that way, it's no fun when server lag mucks things up.

While following Bill I was averaging 1:26 laps but after moving ahead of Bill I was able to lower my laptimes by about a second and decided to try and catch Tom but I could see it was not very likely unless he made a mistake. And he didn't, so congrats Tom on the win!

Jeff, you will need to penalize me 2 points. I didn't take a stop and go after the reset at Moss corner. And at our Monza 10K event I had to reset there at Lesmos 1 and didn't do a stop and go then either.
---
2/27/07, Race #12 -- Monza 10K

Charlie's Report: After spending the better part of the last three days driving the highways between Cincinnati and Philadelphia, I was in prime high speed driving mode when I arrived home about 30 minutes before tonight's race. I was a bit tired, but the opportunity to run the banking at Monza was too good to pass up!

I had a decent qualifying session, ending up 4th in a very tight field, about 1/10th of a second off the pole. I got a decent start, maintaining my position into the Curve Grande, and set myself up for the Lesmos, slotting in behind Tom's BRM. I got a great run through Lesmo 1, and when Tom went a little wide and had to slow, I was able to take the position in Lesmo 2, moving up to 3rd behind Dave and Rich.

For the next few laps I had a good seat for the battle between the leaders, but sadly the battle came to an end with a collision in the Lesmos. Rich was knocked off line, and I was able to slide past him and into 2nd place. I was able to close down on Dave's Ferrari, now in the lead, and when Dave subsequently had a bobble I was able to perform a drafting pass and take the lead!

Although I would go on to hold the lead on several occasions during the race I was never able to break the draft and pull away. Soon enough, Dave would draft past me on the banking or in a straight. We swapped the lead back and forth many times, and would have done so even more had I not realized that our side-by-side racing was allowing Tom and Rich to catch up. Our battle went on for many laps until I was involved in a heavy collision in the Curve Grande while trying to retain the lead. I was forced to perform a Shift-R. After the requisite stop & go penalty in the Pits I emerged in 4th place, 12 seconds behind Tom, with a full load of 23 gallons of fuel, 7 laps to go, and slim prospects of improving my situation. The remaining laps of the race went by comparatively slowly, but I was able to hold on to my position despite the extra fuel, bringing my Brabham home to a 4th place finish. Not the finish I had hoped for, but given that I didn't expect to even be racing, not too bad at that.

Thanks for the race fellows!

Charlie
---
2/13/07, Race #11 -- Brands Hatch

Rich's Report: Brands Hatch. What a race. To begin with it looked like I wouldn't be participating at all since the "join" button was grayed out for me. Others seemed to be joining ok, but for some odd reason I couldn't. Jeff and Charlie, I thank you both for helping me sort through the possible causes for my dilemma and for your suggestions and patience. After our Keimola race I had posted a question asking which Brands Hatch track we'd run since there is more than one. I recall Jeff responded saying it would be Brands Hatch 1967 and the folder name should be "brands67" and Arturo responded with a link to the track at Speedgeezers. So that's what I had installed in preparation for tonight's race. But still to my alarm as the race session started up, I couldn't join. Then Charlie suggested to try reinstalling the track as perhaps there was a bad .ini file. That got me to thinking about what changes I had made to my GPL installation since Keimola. Well, it turns out that I had decided to get my track directory sorted out-once and for all. Over an extended period of time I had downloaded many wonderful new tracks but had not installed them due to the 64 track limit. So, I had decided to do some investigating on how to use GEM+ to create multiple season .ini's so that I could install all my tracks to my GPL installation and distribute the tracks across a mulitude of season .ini's. I started out with less than 64 tracks in my GPL track folder, and when I finished the marathon job of track installations and season .ini creations I ended up with 265 tracks in my GPL track folder-and I now have 18 unique season.ini files...LOL!! One of the new season .ini's I created was reserved just for our OFFRS season and in it I installed only our scheduled tracks. Well, after Charlie's comment about the .ini's I thought maybe the reason I couldn't join was because I had not placed Brands Hatch into the '67season. ini but instead had placed it into my new OFFRS_S5.ini. I had assumed VROC would look through all my .ini files but evidently that wasn't happening since the "join" button remained grayed out. So I opened my OFFRS_S5.ini and copied the Brands Hatch entry and pasted it into the SEASONS67.ini file on a hunch that maybe VROC was designed to only look in the SEASONS67.ini file since that was what originally shipped with the CD. By now I'm thinking if this doesn't work I'm out of luck, but luckily it worked and finally I made it in time to join the qualifying session. I was worried since I had lost all kinds of time just trying to join. But after a few laps I managed a good lap that ended up giving me the pole. So, I thought well that sure was a stroke of good luck and things were looking up. Once the race got under way we all made it cleanly through T1, or at least I think we all did. But then at T2 the luck ran out. I managed to lose the tail which set me up for some contact with Tom who was right behind me. Next thing I know my car is in self destruct mode, and the replay showed Tom's fate was identical. Tom, my apologies to you, if I hadn't let my tail slip out from me you probably would never have made contact with me. Then as these events tend to unfold, the entire field passed us by before we could shift R and rejoin the race. As I made my way around the back side of the track and approaced the pits I dived into pitlane to take my stop and go penalty. I really seem to have NOT gotten the hang of the stop and go. I came to a stop and this time was definitely not intending to wait 30 seconds like I thought I was suppposed to when I took the stop and go penalty at Spa. Jeff set me straight on that so I planned on just coming to a complete stop and then "go". Well, it didn't happen quite like that. Instead I got confused and fumbled all around with the gears for awhile, you'd think I had never drove GPL before in my life. Finally I found 1st gear right as I saw Tom coming into pitlane just behind me to take his stop and go. After getting out of pitlane I looked at Pribluda and saw the gap between myself and the front runners was such that I would just have to settle for no points tonight. In the post race chat session I recall my first comment was something to the effect of "I didn't see that happening tonight". And I stand by that comment because after lap one I never even remotely thought I could maybe finish in the points. What I would like to say is thanks very much to you guys for giving me a break on some of those corners, and you know because it is really hard to find anywhere to make a pass at Brands, so thanks for that, end results would have been different if every corner had been blocked, so thanks for allowing me some maneuverability.

And congrats to Charlie for 2nd and John for 3rd. It's good to see John's ISP issues have been sorted and is now able to get on, and stay on track for the duration. Bill, I wonder happened to Bill, he was present for qualifying but watching the replay I didn't see him. Don't tell me Bill is now the one to suffer with ISP issues. And I wonder what happened to Tom and JD King, Bob and Jeff, they all started but didn't show as having finished. Hopefully, not the result of discos or ISP issues.
---
Charlie's Report: I had spent last week chilling in Florida on a nice little winter vacation. I had thought Brands was being raced last week, so Tuesday night I booted up the Foxserver as usual and prepared to host a practice session at Monza 10K. It wasn't until I joined chat (and saw the unusually large crowd) that I realized the Brands Hatch race was about to start! Luckily, I had come up with a decent setup for the Brab during the practice session two weeks ago. After a pause to help Rich, I was able to join and after a bit of practice put in a lap good enough to snag the 3rd position on the grid. I was grateful - my joystick was acting up a bit (dirty pot, no doubt), and was a bit twitchy in right-hand turns. I thought it would be ok for the race, however, and in the end it proved more an annoyance than a real hindrance.

I got a decent start and slotted into 3rd place behind Rich and Tom, respectively. Sadly they both came together at Druids. As I watched Tom's car spinning off I aimed behind him, and just managed to squeak through the accident on the inside, and found myself in the lead!

As things settled down I found myself with about a four second lead, with John King trailing in second place. I was able to extend the lead slightly, but by and large John was able to pace me. I knew Rich had to be lurking back in the pack somewhere, so I began to knuckle down, and finally around mid-race I began to extend my lead a bit. With 10 laps to go I had a comfortable margin over John, butt when the leader board changed to show Rich charging back towards the front I figured things were going to become very difficult.

I knew from qualifying that Rich was substantially faster, and sure enough the 7-second lead I possessed over him quickly began to disappear. The joystick was making right-hand drifts a bit tricky, but I bit down and pressed on, hoping to have to make Rich work hard enough to possibly force him to make a mistake. It was not to be, however - Rich caught me at the line to start lap 19, and soon moved ahead, eventually building up a 10 second lead. I pressed on, however, and was able to bring my Brab home to a 2nd place finish. Brands is a fun but demanding track, and given that I hadn't planned to race there, I was thrilled with the result.

Congrats to Rich for driving an inspired race to recover from his early accident, and to John for a gritty drive to the podium! There is nothing finer than Brands with the '65s!

Charlie Fox
---
1/23/07, Race #10 -- Keimola

John's Report: Qually was fun and I felt good getting into the 1:19's but Rich got about 0.3 faster for pole. Very nice time! Bill and Arturo were not far behind taking P3 and 4 for the starting grid.

At the start I was able to stay pretty even to Rich but had somebody coming up my right side having gotten a great start. Fortunately they eased up as we went into T1 and I think we all went through OK. I was sorry to lose Bill and then Kevin at the start.(Bill discoed, Kevin had default setup)

I concentrated on keeping Rich in site and after several laps he favored me by going a bit wide in T1 and tiptoeing thru the dirt letting me past. He was back on my tail after only a couple laps and looking for a passing opportunity. Unfortunately we touched on entering T1 after several laps and I landed on my lid. I took off after a fast shift-R to find Rich graciously waiting for me and off we went. It was painfully obvious after a couple laps that I wasn't going to catch him or put enough pressure to cause a mistake so took my stop and go losing a spot to Arturo who was hammering out quick consistent laps. I expected a long chase and battle to try to regain 2nd but Arturo got sideways avoiding a spun car in the last turn and I skated past and was able to hold P2 to the end.

P2 was nice but just being in the whole race and being scored correctly as well was the real treat!

Congrats to Rich for the usual (win, pole, FL, etc.) and to Arturo for a fine race. Well done!

JWK
---
Bill's Report: Jeezz---Its hard to sit and write this with such a sore butt!! After a PR in qualifying I was waiting for race start, and just before the race began I thought my car was still on the track and apparently carelessly hit the wrong key and found myself discoed!! Alas it was too late to rejoin and the last few minutes were spent kicking myself. I hope John was spared a similar fate this time, and you'all had a good time....
---
1/9/07, Race #9 -- Monza

Charlie's Report: As always, a fun slip-streamer at the spiritual home of Grand Prix racing!

I decided to give the BT11 another try, and after a few tweaks in the aftermath of last week's practice, managed to devise a setup that would consistently lap in the mid 1:37s. Qualifying was excellent - I managed a 1:37.22, my best BT11 lap yet, but it was still only good for 5th on the grid.

I got a good start and was just a bit faster off the line than Arturo, so I slotted in behind him, hoping for a good draft pass into the Curve Grande. The next thing I knew both Arturo and I were wrecked, and forced to Shift-R and restart the race only a few hundred feet from the start line. Reviewing the replay it is clear that there was no contact between our cars or anyone else's, for that matter, so I have to conclude it was either a warp or a collision box error. Very frustrating to lose any chance of a win in the first few seconds, but there was nothing for it.

After the restart I was a little over 1 second behind Arturo. I did my stop & go immediately upon reaching the pits at the end of the first lap - Arturo proceeded on, however, and did his stop & go on the next lap. As a result, I came upon him with a full head of steam and and was able to pass, moving me up from dead last. Arturo fell in behind me, 1 second back. The pit board subsequently showed us at least 20 seconds behind the pack.

Basically, from here on my race was largely with Arturo only. We both moved past Jeff at one point, and then slowly began reeling in Bob, both of whom seemed to be fighting difficult cars. Bob eventually suffered a spin exiting the Lesmos and I was able to move past and into 4th place, with Arturo still just behind. I was able to maintain the gap, but eventually my concentration began to wane - with 5 laps to go I downshited too early for Lesmo 1 and spun, and Arturo moved past and into 4th. I set out to catch back up and nearly did, but was still 1.4 seconds behind at the finish. My only concillation was turning a 1:37.14 in the final few laps, a '65 mod pb for me at Monza.

Well, that was one I would rather forget. A fun race to be sure - it is always fun racing with Arturo (who is getting seriously fast as he becomes used to his new wheel and pedals), but at the same time I am disappointed at throwing a position away with a spin. I will have to work harder for sure!

PS - once the season winds down I will revamp the Foxserver so it functions properly with VROC as well as iGOR. I was glad to hear everyone's connections seemed ok, so at least we have a decent backup in case we cannot use the SMI server.

Thanks for the race fellows,and congrats to the podium and Arturo! I'll host a practice run next Tuesday as usual!

Charlie
---
Arturo's Report: Well, first I must thank Charlie for his kind words, not certainly very well deserved. :)

I managed to get a 1m37.071s at the practice, PB and enough for 3rd on the grid. Because of my lack of experience with the clutch at the start, I was afraid to cause a mess, but everything went ok untill, as Charlie described, I found myself flying around in circles in the air, to land on the opposite side of the track, looking backwards. As I was not sure of the car was in one piece, I used the shift-r trick to re-join the race, with Charlie close behind. In the heat of the battle, I forgot to make my stop&go in the next lap, so I did it in the next one. I saw Charlie running away to Curva Grande, so there I went :)

From then on, it was a tremendous battle to keep Charlie in sight. I know how Charlie drivers, so my hopes were only focused on closing the 1s/1.5s gap a bit. Sometimes it seemed I could, just too see Charlie moving away some tenths. I tried everything, including some mistakes ;) with no results. As CHarlie said, we passed Jeff first, and soon Bob, but the finish was closing the the gap was still there, this time around 2s. With about 8 laps to go, I started pushing a bit harder where it was possible and could close the gat a bit, but soon it was clear that. even if I could catch Charlie, to pass him would be almost impossible, except .... when we were coming into Lesmo 1, I saw Charlie was blocking his tyres, and when the cloud vanished, he was trying to recover from a spin. I slowed down a bit to pass him well to the right of the track and there we went again. The first time I saw the pitboard, it showed I was ahead of Charlie by 2s, with 4 laps to go. ´Ok, calm down a bit and keep the concentration !!´ I thought, so I just focused on carrying on the speed in the turns, not to miss any braking point and into having the car properly planted at the time to get the most out of the V12. The gap was 1s when we went into the final lap, so I relaxed a bit and took things with ease. I could see Charlie´s BT11 in the mirrors, but I thought the gap was long enough as to stay ahead of him, and so the checkered was shown :))

As Charlie suggested, there was no way I could pass him except for that spin. I could barely keep Charlie´s pace, as fast and consistant as usual, so I just tried to show if I learned something from him after many years racing together. I guess I could pass the audition, but certainly, Charlie deserved that 4th position much more than me. Better luck next time mate !!!

No big deal about the incident at the start, which was clearly caused by a huge warp. I am sorry JW got discoed again :(( and to see Bob also got discoed. I noticed a couple of ups and downs in the connection, but nothing serious for me, fortunately.

Congratulations to Rich for a great win, and also to Bill and Tom for their podiums !!!!

Arturo
---
12/12/06, Race #8 -- Nurburgring

Charlie's Report: This race featured the very best lap I have ever driven in GPL, along with some of the worst. I wish I could say I was the only person who suffered for it, but that was not the case.

Last week's practice session had been a shock. I have done fairly well at the Ring over the years, consistently lapping in the 8:32 - 8:33 range in Fatso with the Lotus and Ferrari, but during last week's session I was barely able to break 8:40, and clean laps were rare. I love the Ring and resolved to do better, and subsequently put in some serious practice time over the weekend racing against the AI. I was slowly able to work my times back down into the 8:33 range in the Lotus. My all-time pb in a '65 at the Ring was an 8:27.12 Honda lap two years ago, but exploratory laps in the Honda and BRM proved slow. I had never really tried the BT 11, however. I slapped a Lotus setup on the car and ran a few laps and immediately found 2 more seconds. A little more practice and I was lapping consistently in the 8:29 - 8:30 range. I felt I had a decent chance to do well when the race arrived.

Qualifying was a GPL highpoint for me. After an exploratory lap with a slightly longer 5th gear, I went back to my established setup and cranked out an 8:28 lap, good for the pole at the time. I felt pretty good about it, and on the next time I lowered it to an 8:27, a BT 11 pb. Rich Korman put in an even better lap, however, and I was now back in 2nd. With 4 minutes to go, hot tires, light tanks, and nothing to lose I went for it, and the result was an 8:25.58, an all-time pb for me in a '65 at the Ring! It held up for pole and the race got underway.

I got a decent start but Rich got a hole-shot and pulled alongside me on the inside heading for T1. I gave him plenty of room and took him deep into the braking zone. Rich ran wide and went off the grass and into the fence, but before I could pass his car bounded back out across the track and I was collected. My car was undamaged and I restarted, but now I was at the back of the pack.

I was admittedly a bit irritated. I eventually caught back up to the field (dodging a spinning Lotus along the way), trying hard to stay in touch with Rich, who was just ahead. Rich managed to squeeze by JD King on the downhill heading towards Adenauer Forst. I could not get past, but closed right up on his gearbox. I was too close - when JD braked for the uphill L-R-L sequence, I punted solidly in the rear, demolishing his Lotus and ruining his race. I subsequently careened into the Tree of Death and had to Shift-R. The incident was totally my fault. I was too aggressive and was simply driving too close for that sequence of the track, and I sincerely apologize for my error.

Now I was really mad at myself. I hate to be the cause of any accident that ruins a fellow driver's race. I set back out on cold meats and full tanks, and actually caught back up to Rich before the lap was over. I did a quick stop & go in the pits, set back out in 4th place, and tried to catch back up. I did - there was apparently a major accident at the bridge at Aremberg involving all three cars ahead. I was able to slip past two cars that had left the track and had enough momentum to pass Rich, who had slowed, and now I was back in the lead.

I held onto the lead for the rest of Lap 2 and the first part of Lap 3. Rich paced me for a while, but eventually got a great run on me in the twisty stuff after the Karussell (around Klostertal, I believe), and put on a pass I can only describe as magical. He had a little bobble shortly afterwards, however, and I caught up and tried to squirt past. We bumped wheels and he went off, luckily without damage. I braked to wait for him to rejoin, and the race resumed.

Rich was able to pull out a small lead on me until the turn sequence at Galgenkopf, when he had another bobble. I had a full head of steam and was able to get alongside approaching the final right-hander before the Dottinger Hohe straightaway, but our cars tangled again and this time I was left without a wheel. Rich was undamaged and motored away while I was forced to do another Shift-R. I was subsequently passed by Dave while I was doing my stop & go in the pits, and found myself in 3rd place, maybe 15 - 20 seconds off the lead, with 2 laps to go.

Finding myself once again with full tanks and cold tires, I was admittedly pretty angry. After almost an entire lap I eventually began catching back up to Dave's Ferrari, but Dave was driving very solidly and I was having trouble closing. Sadly for Dave he went off approaching Schwalbenschwanz, and I moved by and into 2nd. I did the final lap still in something of a red mist, and ended up in 2nd place about 14 seconds off the lead.

The ultimate GPL track, hands down. Congrats to Rich for an awesome drive! Again, I sincerely apologize to JD for spoiling his race. I truly try to drive clean and fair, and I am sick that I struck your car and ended your night. I'm thankful I didn't manage to wreck anyone else.

Charlie Fox
---
Arturo's Report: Hi guys,
I was having problems with the wheel since I joined the server. I went back to Windows and tried some changes in the settings, recalibrating, etc., with little improvements. In the end, the car was quite unstable and I had no time to improve my qualy laptime, so I started from the back of the grid.

There were some problems at T1, which I could pass in one piece, and everything was ok in the first lap, probably because I was going very slow, the usual tactics here. In the second lap, a Ferrari and a Lotus were chasing me, so I had some offs while trying to go faster, which proved to be impossible with an unstable car. After sending a rear wheel to decorate the german countryside, I parked it. I was in problems to keep the thing in the track and did not want to show up in the racing line of nobody here. Time to retire the good old Act Labs and await for a new G25 8/

Arturo
---
Bob's Report: My race went well. I improved my Ferrari PB by 9 seconds and my OA 65 PB by 2 seconds. I kept thinking "enter the corners one tenth slower and exit two tenths faster" and it worked well.

In Turn 1, I got caught behind the small tangle. I took the first lap fairly easily since there was no chance of a good time yet. Phil G was near by ahead and then behind but it looked like he was going off occasionally from the time gaps. I finally ramped up the effort lap by lap and for once felt fairly comfortable and serene at the Ring.

I didn't have much close company during the race after the second lap, but I was still inspired to push hard.

Bob Simpson
---
Bill's Report: An excellent report and read, Charlie, and a great pole lap in Qualifying!! There was no chance of me catching CF at the 'Ring, and as for the time of submission of the race report----well, that again was no contest.

Anyone looking at the starting grid and then the race results might say that the race was just a parade to the finish, but the racers know that was far from the case, as other race reports have related.

This race was rather weird for me. I knocked 4 seconds off my PR several days before the race, and looked for further improvement before Tuesday. But Monday saw a noticeable falloff in car performance. An hour and a half of recalibrations and mucking with settings couldn't get things completely back to normal, and I joined the race session in a rather gloomy mood. I figured to just just grit it out the best I could to race end.

Rich's overcooking it into T1 and taking Charlie with him, lo and behold, I'm in P1!!! Alas, the gloomy mood couldn't handle that, and early in L1 I went off. Resuming to chase those now ahead I seemed to be able to keep it on the paving and keep sight of Dave/Rich ahead. That is until Rich bunted Dave going into the righthander before the bridge, and sportingly waited for Dave to get back on the track. Unfortunately he positioned himself to wait in the middle of the track, midcurve, with the field behind coming full tilt into the blind curve. With Dave's delay in getting going, that was like an IED plant, and my attempt to evade was futile, an others behind couldn't also. I tried to rejoin the race, but Dave got onto the track just ahead of me, clipped the bridge, and caught me for the second crash in about 50 yards!! A shift-R, and the stop-and-go, and the leaders were well gone. A couple of minor miscues, and now going solo, it dawned on me that I started with only a 3 lap fuel load. Thinking that I was facing running out before race end, I stopped for a shift-R at the carousel, and did the stop-and-go. The next lap was fairly clean, and I was ready for the last lap. To my surprise, the flagman was there at S/F doing his thing. In the race fog I had lost track of the lapcount, the final indicator in a race in which I was apparently only partially there.

Congrats to Rich, Charlie and Dave for podium positions in a most eventful race.
May it be the last of its sort for a while....
---
11/28/06, Race #7 -- Zandvoort

The start at Zandy


Rich's Report: Charlie,

Sorry you missed Zandy but I can understand. Thanksgiving morning I awoke with a moderate fever and had it not begun to abate when it did late Sunday I would have missed tonight as well. It wasn't much of an illness per se but still it left me feeling pretty well drained. Hope you get well soon.

Zandvoort was very interesting indeed. Jeff knocked off a really quick qualifying time that placed him right up front in the number two grid slot. And then as the race got underway he held the position for a long time, 16 or 18 laps or thereabouts but when exiting Hondenvlak he just ever so slightly grazed the left edge of the track and that launched him into the sand fields. And I can only imagine Bill's horror as he rounded the bend to find Jeff getting slowly back underway and without much time to react there was a colossal bang, Jeff must have felt like he'd been hit by a runaway freight train. And I believe Arturo got tangled up in that as well. Maybe JD and Tom too, I'm not sure. And that gave rise to a remarkable turn of events. Bill seems to be like a cat racer, he seems to have 9 lives and always manages to land on his feet. This collision worked out to his advantage because as everyone got going again it was no longer Jeff that held 2nd place but Bill. And Jeff's luck had decidedly taken a turn for the worse and eventually he'd take 5th instead of 2nd. That's gotta hurt and a shame because for more than half the race it looked like he had 2nd place all to himself and in the bag.

Sorry to see JW King got disconnected again, the replay showed he was running strong right on the heels of Jeff right up to the moment he disappeared.

Congratulations to Bill for pulling through the wreckage and landing 2nd on the podium and congrats to JD King for clinching the 3rd place finish!! Although from what I saw in the replay a 3rd place honorable mention of some sort could be given to Tom as it looked to me as if he deliberately slowed up on his last lap between Pulleveld and the chequered flag to give John time to catch and pass him only a couple hundred yards from the finish line. Of course I could be wrong, maybe it was engine failure or he ran out of gas. Anyway, Zandy sure was a race with lot's of action and surprises.

Next up-the legendary Nurburgring!

Best regards,
Rich
---
Phil's Report: Good morning,

I qualified last, no surprise there. I never even got close to my PB.

I got by Jim on the start and we ran for a few laps in close formation until I made a mistake and went wide thus allowing Jim to pass.

At this point I figured I was relegated to running by myself at the back for the rest of the race.

But a few laps later, I came up on Arturo and Bob Simpson who must have had a bit of an incident, setting them back.

I ended up in front of Arturo and we ran together for a little while.

But I later spun at the Hugenholtzbocht hairpin and that was the start of my problems.

Arturo waited for me and we got going again.

But it would appear that I did not secure my wheel well enough at the start of the race and one of the clamps started coming loose allowing the wheel to move sideways as I steered. I thought I could continue but after a short while, a few more turns and another off track excursion (Arturo waited for me again), the wheel was half off. I tried to fix it while driving but I was all over the place and ended up spinning, right into Arturo.

Sorry about that Arturo. And thanks for waiting. I felt like such an idiot running into you. I should have retired immediately when I realized the wheel was coming off.

Oh well, another lesson learned. Make sure your equipment is in proper working condition before entering the track.

Too bad about the mechanical failure. I was having phun.

Cya next time,

Phil
---
Arturo's Report: Hey Phil,
No problem at all my friend. After a poor start, I could keep my pace behind JD and ahead of Tom for a while. Then I spun at the back of the track and since I stopped facing the wrong way, I waited till I say no other drivers coming to rejoin the race. By then, you were about 2s ahead of me and I could barely close the gap to about 1s or maybe a bit less, but you were doing a hell of job and I could not go faster than that, even if I really tried it. I think we were both lapping in the mid 30s all the time, and it was certainly huge fun. I wanted to have the chance to pass you in the track, so I waited for you to recover a couple of times, so we could continue with the chasing :D Then, when we came into the main straight, I thought you were in problems because your Ferrari looked pretty unstable. I slowed down a bit but, unfortunately, I could not avoid your car when it spun and came into the track. Sorry to hear all was caused by the wheel bud :((

Do not feel bad. I am really amazed by your progress at the track and you were certainly making things extremely difficult :) I will ask for team orders next time ;) or maybe you should supervise those italian mechanics a bit more closely .... you know italians

http://tcc.itc.it/people/rocchi/fun/europe.html

8)

All the best,

Arturo
---
Jeff's Report: My evening was full of ups and downs, starting with GPL crashing during the 1st few minutes of qually so getting back online and running some laps before the end of qual was a big plus in my book. As it turned out, I managed to pull off 1 very tidy lap which resulted in a PB of 28.2 -- a place I haven't seen before.

Starting P2 on the grid, I had a nice clean view down to turn 1 and made it through the 1st couple of laps cleanly with no drama. Usually, it's the first few laps of a race that result in my demise. The best I can figure is that's because it takes time for me to settle down and get into a rhythm. And Zandy is a rhythm type of track. Tire temps are often an issue here so tire management was at the top of my list, trying not to slide the car around too much.

Phil was quite a bit faster and I figure I should try to run my pace and not worry about the growing gap to 1st. John was right on my tail in P3 for the 1st few laps but unfortunately he disappeared early on. Bummer John. That left Bill in P3 a few seconds back. Which is pretty much how things stayed for the 1st half of the race. Then I made the same mistake I've made in the past at Zandy and ran a little wide at the exit of the right hander after Hondenvlack.

Well, that was the start of the end for me as I've never ran 27 laps without finding the sand at some point. The dump part was that I wasn't doing anything particularly special. I just ran wide at the exit. As I tried to ease my way back onto the track, I mis-judged how much room there was and Bill couldn't avoid my slow car. So my first apology goes to Bill. A shift-R was needed to recover from the hit, and after my stop/go, I rejoined in the middle of a Ferrari sandwich between JD and TJ. The next several laps were fun and I was trying like heck to run down JD and keep TJ behind me. My tire mgmt strategy was out the window at this point and will full tanks again, I was really sliding the car around trying to keep up with JD. And TJ was right there in the mirrors.

Now for my second apology. I was running a bit more rear brake bias than I normally like but I thought I could manage the back of the car and it seemed to help my overall lap times. With two to go, I bumped JD in the tail under braking causing him to spin. While I was waiting for him to get going, TJ caught up and the three of us were running nose to tail. Now for the really stupid move...with 1 to go, I figured I'd try the inside down in 1. Unfortunately, I couldn't keep the back of the car behind me and ended up sliding through the grass and coming back on track to take out JD... argh. Sorry about that JD. At that point I was just happy to get back to the finish line.

Like I said... an up and down evening for me.
--Jeff
---
Bill's Report: Zandy was a mixed bag, with both good luck and a few mistakes resulting in a finish in P2, a final result that I sure was happy with. The '28.6 in Q was about as good as I hoped for, though only good for 4th spot on the grid. On the dash into T1 at flagdrop things accordioned into rather tight congestion, with JDK picking up 2 slots. In trying to pay attention to all the nearby cars, amid all the noise I lost track of my downshifting, and found myself in neutral midway through T1!!---Jeez---what a start!! Getting back into gear and back onto raceline, my slow exit fron T2 let JDK up to nerf me, getting us both up on the grass embankment. We both reentered the track without any contact, but JDK apparently had the tiger unleashed, and passed me around the outside in T3!! Now in P5, I had to get into the "Zandy rhythm" to try to improve things. I thought I was doing well, but there was no improvement in the gap to JDK for several laps, and the visual gap to the three ahead of him was rapidly increasing. Fifth looked like the best I could hope for at that time, and thats when Lady Luck did her thing. JDK got onto the grass, letting me by, and the pit board showed Jeff +4 ahead and me in P3!! I figured that John's disco demons still hadn't been exhorcized since I hadn't passed anyone other than JDK.

So it was off in pursuit of Jeff---Ha!---. Jeff obviously had Zandy tuned in quite well, and despite what I thought was some decent lapping the gap steadily increased to over 6 seconds. Well, P3 ain't bad---. Then going through the swoopy section there was a car, nearly stationary, on my line. I didn't know at the time it was Jeff, and the crash left me on my head. Frantic pushing of the Shift-R button gave nothing, another car must be approaching---Keep pushing---. Arturo, replicating my experience, plowed into me, and I ended up rightside up pointing in the right direction. Perhaps if I had been in a rational state I would have taken off on my way, but the shift-R fixation at the time had hold, and I hit the button to revert to cold tires and full fuel. I instantly regretted it, a pit stop or loss af a point was now set in place---Dang!! But in another case of luck of the dumb, the Replay Analyzer Mechanical report showed both medium suspension and engine damage, so the Shift-R was the "wise" move.

It was another lap and a half 'til I could see where I now stood, and the pitboard showed P2!!, with a B-I-G gap up to Rich. And Jeff didn't show behind me. The remainder of the race saw the gap to Rich increase at about a second per lap, a most impressive consistent pace. TJ showed on the pitboard behind me for the last few laps, and I was surprised to see that JDK had P3 at the end. Looking at the replay, it looked like TJ intentionally slowed before the finish line to give up P3.... What happened there TJ???

Note: For the fourth atraight race (I hate to hold this record), Jeff, dock me a point for not doing the stop-and-go after the Shift-R.
---
11/14/06, Race #6 -- Silverstone



Bill's Report: We all had plenty of time to get ready for Silverstone, but the best- laid plans----well, you know... Obviously I didn't spend enough time setting first gear for the start, and that was quite costly. Bob, two spaces back on the starting grid, came storming up at flag drop, and got just a littlu too far into the space between me and the pit wall. GPL said "CONTACT", and when the gyrations ended I took a shift-R just halfway to T1! I couldn't chance damage at race start, and the Mechanical report said that engine damage and medium suspension had resulted, so the snap decision turned out to be a good one. My replay shows Bob's Lotus zooming off from the accident absent a left front wheel, and with the engine blazing away leaving a thick trail of smoke. That continues down to and through T1, with normality restored after exiting T1--quite amusing...

Resuming the race, P9 showed starting L2---here we go again... I had managed to close up on 2 cars ahead when the first spun, collected the second, then me, and next Bob. I ended up on the road, facing the right way, so just dropped into first and took off. After a few corners gingerly testing the cars handling, it seemed OK, so I tried to get down to some serious lapping. After a few laps it slowly became apparent that the car wasn't up to snuff. The interval to the car ahead was painfully slow in coming down, and I had doubts that I would be able to get by even if I were to catch up. Then he spun and I got by. Again it was too slow in gettin gack up to the next car ahead. Then he spun. That process provided me with every position gained! Not once in the race did I do a 'normal' pass!!

At mid race, in P4, Charlie showed 10 seconds ahead (deja vu!!). Even with a normal car that would have required a CF mistake to get P3, and that was not forthcoming. Shift points on the track were about a second later than normal, and top speed was off by about 3 MPH. The Mechanical report for the second crash showed only minor suspension damage, but with engine damage, so the decision to not shift-R the second time was NOT the right thing to do. Hey, sometimes you just have to roll the dice....

And to top it off, I now have three consecutive races with a point docked for shift_Ring without the pitstop.

On to Zandy!!
---
Phil's Report: Hi all,

It was nice not to have to start from the back of the grid last night.

I had practiced and it showed in my improved consistency.

I was able to beat my PB in qualifying and ended up 9th on the grid out of the 12 starters. I was happy with my performance so far.

I got a pretty good launch off the start. This allowed me to narrowly escape the start incident near the middle of the grid and move up a few spots in the process.

Next thing I know I'm running in 6th!

I didn't manage to stay there long though as on lap 5 I lost it at Club and Bill got easily by me. Tom was now close behind and putting on the pressure big time!

One lap later, Tom pulled up alongside me as we headed down the Hangar Straight. A yellow flag was waving at the entrance to Stowe. I was on the outside on the racing line as Tom took the inside.

I braked a little later than Tom and thought I might have a chance to win the corner.

Then I saw Arturo on the edge of the track pointing straight at me. I guess I lost my concentration for second and oversteered it a bit and lost a ton of speed in the corner. Tom took off in the distance.

I was now in 7th with the gap to Tom increasing.

So I set my sights on finishing the race on the lead lap. I had a more than 30 second gap between me and Kevin so I figured I could do it if I continued to run good laps.

I managed to run some nice steady laps (I ended up with the same number of on track laps as Kevin and Tom, 14, to lead the field) and it paid off. Well, not really.

With four laps to go, and with my goal of finishing on the lead lap still well alive with Kevin closing but far enough back that I could stay ahead of him till the end, Bob Simpson made a mistake clipping the curb at Chapel and spinning off. He rejoined with me only about 3 seconds behind him. So the chase was on.

I figured if I could get up a little closer maybe I could force him to make a mistake and gain a place to finish in the points.

Wrong!!!! I'm the one who pushed too hard and ended up making the mistake on lap 22. What an idiot!

So now Kevin is only a few seconds behind me and catching me fast.

Now, even in my dreams, there is absolutely no way I could ever outdrive Kevin for two laps.

So at the start of his last lap (my 23rd), I moved over and let Kevin drive by me, thus ending my chance of reaching my goal of finishing on the lead lap :-(

And all because of the rookie mistake of going away from my game plan and getting greedy for that points-paying 6th position.

Oh well, maybe next time.

I had phun guys, thanks!
---
10/24/06, Race #5 - Rouen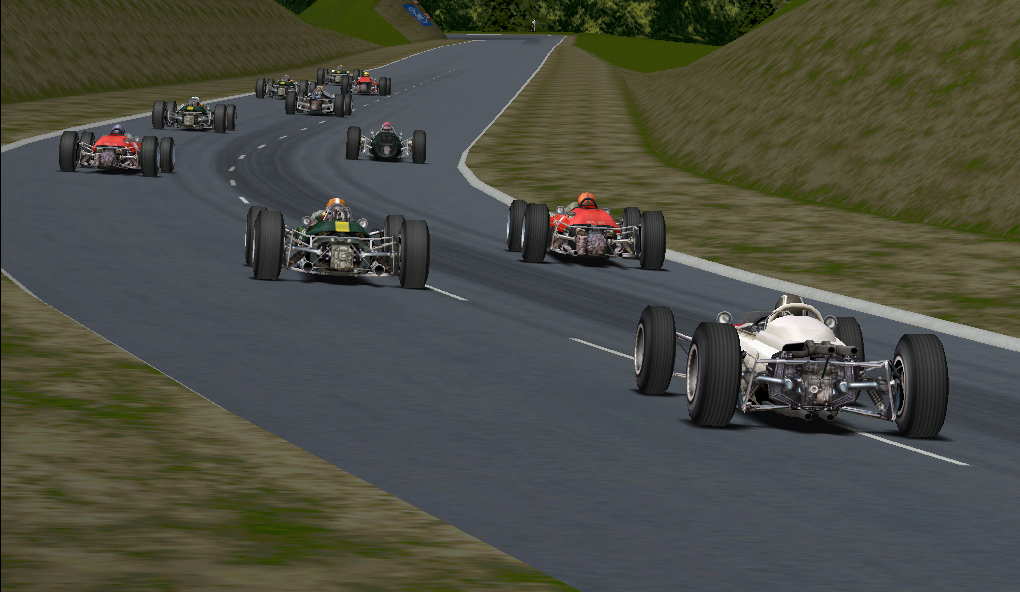 The pack runs through T1 at Rouen.

Rich's Report: First just have to say to Jeff to please penalize me two points. I made a huge mistake and somehow didn't get the race setup loaded properly. I had no idea until about a third of the way through the race that I was running my qualifying setup. That's when I heard the engine sputter, first thought was I had damaged the motor but then I looked at my fuel and saw I was running on fumes. I wanted to kick myself so hard. So I had to do a shift-R and then yet another shift-R had to be done again later on. In hind sight I probably should have taken the pit penalty stops for each shift-R but after last week's pit penalty fiasco I completely blocked the thought out of my mind.

After Jeff informed me after Spa the pit penalty was just a stop and go that means had I known I could maybe have finished in the points as I was in 5th when I took the 30 second penalty stop. So doing the math, I threw away two points tonight and probably a few more at Spa. Grumble, grumble.

Anyway, congrats to Kevin for 2nd and nice job Jeff on landing third!! Good job to Charlie for 4th and Bill for clinching 5th. I recall seeing him in 10th at one point so Bill, ya must have done a great job making the comeback to 5th.

Sorry to hear so many of you guys discoed tonight. John - that ISP the only game in town?

Best regards,
Rich
---
Bill's Report: Well, Rich certainly made up for his disappointing Spa results, playing the role of DOMINATOR at Rouen, with Pole, FL and the win. Very well done, Rich!! Running with Q fuel load certainly contributed to good early lap times, but nonetheless Rouen was entirely the Korman show.

Personally, I've benefitted greatly with the breaks in the last few races, but Rouen was the time for evening the score. I hoped to see a Q time in the '04's but had a devil of a time getting it. I just couldn't seem to both get a clean lap,and avoid contact. I think I contacted about half the field during Q, and on a lap when I didn't I had a bobble of some sort. Especially notable,as seen in the replay, was my chase of Bob down into the hairpin. He got off the paving, onto the grass on the left. The replay shows my Lotus pursuing his Lotus into the grass, with apparent malicious intent, to deliver a vicious blow. Sorry Bob, that was not the intent at all. Then halfway through Q my pedal assembly came loose, for the first time in years. Its not securely attached, just relying on some spacer blocks and shims to counteract pedal forces. It took several minutes to get everything properly aligned. With one more shot at Q, I had a good lap going by the end of the fuel load, but in the straight to the S/F a Ferrari that had gotten into the grass was reentering as I approached. I thought the bad kharma for my qualifying was about to deliver its final shot, but fortunately that was avoided to yield the hoped-for '04 with less than 2 minutes remainng.

At flagdrop I had a good start, and maintained P3 halfway through L1. Then it all fell apart! Paying too muxh attention to the King Ferrari just ahead, I misjudged the entry to a curb-lined curve. Normally a minor throttle easing enables continuation from that, but with Kevin leading the thundering herd close behind I didn't, and oversteered into the grass and embankment on the right. I ended up on my head in the grass, and of course then had to wait for the herd to pass before getting Resurrected. Dang!! To add insult to injury, while I was waiting, JDKing in his Ferrari, obviously having gotten a hit contract from Bob after our Q incident, came charging into the grass and got vengence for Bob. OK, Bob, we're even now?

The first pit board showed P11---Ugh!!! Those first lap errors really can kill!! Trying to buckle down to salvage whatever possible, I benefitted from others miscues to pick up several places, traded place with JDK a few times, and managed to get by Bob (without contact) into P5 at about the halfway point. The board showed Charlie 15 sec. ahead at that point, and without some help by Charlie, that seemed to be the likely limit to any improvement in position, and it was. Some consolation, perhaps in nonscoring sympathy points from ones mother, lay in getting into a good groove in the closing laps, with 7 of the last 8 laps in the '04's, and the gap to Charlie down to 5 seconds at the end.

Note: Jeff, dock me a point. No stop/go after my Shift-r.....
---
Phil's Report: Hi all,

I had a relatively good race.

Well, not a "finish in the points" kind of good race, but a phun race nonetheless. It was a game between Bob Simpson and I to see who could make the least number of mistakes.

I started last, a shade over 4 seconds off Rich's amazing pole time.

I was able to get a better start than Bob and moved up a place.

I opened up a little bit of a gap but by the end of lap 3 Bob had caught up. This is when the phun began.

I led Bob by about a second for the next five laps. He could never get close enough to catch a draft down the long straight and make a move for the pass.

It ended at the beginning of lap 9 when I went a bit wide at turn 1 and touched the grass allowing Bob to take the lead. I tucked in behind him.

But our little train didn't last long after that as at the hairpin on lap 10, I hit the tires and fell back to 10 seconds behind Bob. Five of those seconds would come back to me when Bob also bobbled the hairpin on lap 11. Bob must have been losing his concentration because later on lap 11 he misjudged Sanson allowing me to close right up to him. He then made another mistake a few seconds later spinning at Scierie. I got by and opened a 4-second gap.

But of course that would not last long and I threw it all away and more by going wide in the left-hander approaching Six Frères and going for a ride down the hill. After climbing out and back on the track I was about 13 seconds behind Bob. And with all this off-track touring, Tom was now gaining ground at an alarming rate behind me.

So I kept up the chase hoping Bob would make another mistake and I wouldn't. My prayers were answered when Bob had more trouble at the Scierie at the end of lap 14. This brought me back to within 4 seconds.

But, hey, wouldn't you know it? I gave that all back to Bob by going for another visit down the hill on lap 15. And of course, this gave Tom a chance to pass me, putting me back where I started in last place.

Luckily for me, Bob didn't wait long to take his turn at making a mistake. We were still on lap 15 and Bob put a wheel on the grass exiting Beauval and went for a spin. Tom probably couldn't believe his luck when he saw another position being handed to him. I was too far behind to capitalize on Bob's mistake and pass him but by the end of the straight I was less than a second behind.

The gap stayed close until the end of lap 17 when Bob made one final mistake at Scierie allowing me to pass once again into 8th place where I would finish.

I finished a lap down to Rich. I let him pass on the straight between Scirie and Paradis on his last lap (my penultimate). I wasn't aware that we were on the last lap. Had I been, I probably would have tried to stay ahead of Rich (no easy task for me) until I had passed the S/F line so I could have finished on the lead lap (the goal I had set for myself at the start of the race).

Anyway, Bob and I had some good close racing. Thanks for that Bob!

I had phun and that's what counts.

Bring on Silverstone!

Phil
---
Charlie's Report:

Rouen is one of the reasons I bought GPL in the first place. It's fast and dangerous, and always makes for great racing. Rouen races are always some of the hardest. Not being that quick, I have to rely on consistent driving to get results, and that usually works at Rouen.

I managed a decent qualifying effort, 6th on the grid with a 2:05.17, not too far off my pb in the BRM. I got a fair start and tried to slot intp position heading for T1, and was barely able to hold off JD King who had gotten a great hole shot at the drop of the flag and tried to take the position. Heading downhill towards Noveau Monde I tried to be careful, waiting for the inevitable "accordian-effect" at the hairpin. I got through fine, although slowed by traffic, which allowed JD King to put on a nice pass out accelerating me on the outside of the Monde! I was impressed, but by Sanson I was right on his gearbox, and exiting the final right-hander for the climb to Gresil he ran wide and spun out on the grass. Bill Kutz went off at the same place almost simultaneously. Luckily I was able to dodge both cars, and now found myself in 5th position, 1 second behind Jeff and Kevin.

For the next 10 laps or so I was just about able to keep up with Jeff, but as the fuel loads lightened everyone picked up time, while I did not. I will attribute that to fatigue! I did inherit 4th position when John was disconnected, but with the gap to 3rd place expanding andthe pitbords showing me with a comfortable lead on Bill Kutz in 5th position, I was content to try to stay in contact with Jeff in the event he had trouble while trying to avoid it myself. The last 1/3 of the rcae was a bit dull as I was running alone most of the time, but I was quite happy to bring my BRM in 4th place, just off the podium.

An excellent race, fast and tough as they most often are at Rouen! Congrats to Rich for those super-human laps in the 2:03s, to Kevin and Jeff for their podium finishes, and kudos to Bill for charging back through the field to finish 5th!

Charlie
---
10/10/06, Race #4 - Spa

L'Eau Rouge carnage -- Lap1

Charlie's Report: That was a classic!

I qualified my BRM in 8th with a stately 3:38.8, which is pretty good for me. I did manage a 3:37.1 once, but I am not really sure how ... I was prepared for the standard "accordian effect" entering Eau Rouge at the back of the pack, so I accelerated enough at the drop of the flag to hold my position, and then backed off just a bit to make sure I had time and room to brake if something happened. Sure enough, there was heavy contact up ahead - I got on the binders hard as cars began to tumble through the air and began working my way through the wreckage. I had almost made it through, and was watching a Ferrari spin across the track, aiming to cross behind it, when it bounced off the armco and right back into my path. I struck it solidly, but my BRM was undamaged. I sat there for a second revving my engine high in neutral, unable to hear that I was not in gear, before I realized what was happening, engaged 1st gear, and accelerated away.

Once away from the incident I settled in behind two other cars, a Ferrari (Tom) and a Lotus (Bill), and set about chasing them down. I assumed I was in 6th place or worse - I was certain the accident had taken place mid-field. As it happened, when I came around to start the next lap I was shown in 3rd position! This put a slightly different complexion on the race, and I redoubled my efforts to catch the leaders.

For the next few laps Tom, Bill, and I engaged in a classic Spa slipstreamer. Bill and I swapped positions back and forth, with the draft helping us chase Tom down. I had just drafted past Bill into Stavelot and emerged close to Tom when he had a bobble - I got past and into the lead, but I had been forced to check up just enough that Bill was able to catch and draft past me before the lap was done. Tom recovered quickly, so things were shaping up for another great round of passes. Sadly, Tom's engine blew shortly thereafter. I now found myself in 2nd position, just a second or so behind Bill, with a small gap over Kevin in 3rd place.

Over the next few laps I tried to stay close to Bill. At first I could pace him, but some small mistakes from pushing too hard left me out of the draft with Kevin gaining on me. Kevin eventually caught me, but I could see that I was able to maintain my position on sheer horsepower exiting the turns. I was surprised by this (it turns out Kevin's engine had been damaged - here I thought I was suddenly mega!), and we raced side-by-side for quite a while before I let Kevin past rather than hold him up or cause an unnecessary accident. I ended up repassing Keving shortly afterwards drafting out of the Masta Kink, and we raced side-by-side again for a little while, before Kevin finally pulled away for good with some amazing cornering work.

The last two laps of the race I concentrated on shifting and avoiding trees - I was still not sure how much damage I had done to my engine in the Eau Rouge incident, and I didn't want to throw away a podium finish. In the end I did make it to the finish with an unexpected 3rd place!

The speeds the being turned at the pointy end of the pack are astounding, and I am learning quite a bit by simply watching and trying to keep up. I have been fortunate the past few races in that the leaders have taken themselves out early. This does not mask the fact that I have much to do to become truly competitive.

Thanks all for a great and fun race!

Charlie Fox
---
Bill's Report: Spa final result was certainly most unexpected for me, and a prime example of racings often-seen quirks. My '37 lap in Q was one of my best ever in the 65's, but was only good for 5th, 2.5 seconds off Kevin's pole, and 2 seconds off Rich's Lotus. John and Arturo were also significantly faster than my time, so any podium position seemed most unlikely at that time.

But at flagdrop, John, immediately ahead of me on the grid, simply vanished!! What an absolute bummer of a season so far for John!! I got a good enough of a start to pass Arturo off the line, and saw Rich and Kevin converge at the entry to T1. I just hoped for a lucky gap to nose through, but Kev's rebound from the wall caught me, and others behind piled on. My replay shows sparks from my Lotus as its scooped up into the air by one of the Ferraris! After coming down, I reflexively and repeatedly hit the Shift-R button, but no response! Not a good strategy, in retrospect, as all in the closely spaced field had to pass before getting resurrected, so it was back to last place before exiting T1---ARRGGH!!

After getting pointed in the right direction I could see a lot of cars akimbo on the road ahead, and fortunately had the chance to pick up quite a few positions before they got up to speed. I had no good idea of where I stood at that point, and it was only on the longest straights that I could see the dots of cars far ahead. It seemed like I was making no impression on those ahead, and not until the end of L2 did I see that Charlie was ahead, I was in 4th (good news!), and Kevin was 1 second behind (NOT good news). With the differential in our Q times it seemed like 5th place was likely by the next lap. As L3 progressed I could see that Charlie (and his running companion) was coming back, and by the time we reached LaSource, I felt a catch could be possible. And surprisingly, the gap back to Kevin was still 1 second (Is he just waiting for my mistake??). My P was now 3, with John Sikura, leader for L1, having spun in L2. Now in L4, I caught a good draft on Charlie in the sprint to Burnenville and got the pass going through Burnenville. I thought Tom, ahead, was now my main concern, but Charlie wasn't yet accepting the pass. He just about caught up in a draft down to Masta, and on the run to Stravelot the replay shows the BRM clocking 178 mph(!!) Luckily it was just short of the repass before Stavelot entry, and I had a good enough exit to get enough of a lead to prevent that happening again. Tom was a few seconds ahead at this time, but got enough out of shape exiting Stavelot and lost enough speed such that I was able to pick up the draft and make the pass just before Blanchimont. Start of L5, with P1!! But where were Kevin and Rich?? Charlie showed on the pitboard at +2, I believe.
Not until the end of L7, did Kevin show up again, at +9!! He must have had another crash, or drove the entire race with a crippled car! Based on our Q differential, without a mistake on my part, the 9 second edge should be enough, but it was definitely a very nervous last 2 laps to get the win.

Probably most surprising was that with the drafts on both Charlie and Tom in L4, the resulting laptime was identical to my Q time, and was good for FL!! I still find that hard to understand. Even that though came to naught as my skipping the stop-and-go after my Shift-R cost me the point.

One more point. I had a good hard chase after Charlie and was able to catch him at Spa. But there's one area in which I would never dream of matching his performance. And that is the racing journalism speed test. I noted a lengthy race report filed at 9:49pm after the race. Awesome! Mighty nimble fingers there!!
---
Phil's Report: Good morning guys,

I knew this was going to be another disaster race for me.

Spa is not one of my favourites and it shows. I hate the long boring parts. The lap is too long and it's too easy to find myself all alone.

Anyway, I qualified dead last as I was expecting. Regardless of how many practice laps I put in I never got close to breaking into the 30s. My best lap was a 1:40.74.

So from my last place start I watched the carnage happen at Eau Rouge and tip-toed my way through the wreckage. Obviously, this put me somewhere in the middle of the pack.

The problem with being in the middle of the pack when you're turtle slow is that you quickly have a group of much faster cars queued up behind you just waiting for a chance to pass. And of course that's exactly what happened.

And here's where I have to apologize to Rich Korman. I'm so sorry I cut you off on the way to La Carriere. I had a few cars behind me and one of them made his move and passed me between Stavelot and La Carriere. You were the car immediately behind the one that passed and you decided to follow up the inside. I did not see you at all and drifted right into you. Sorry, sorry, sorry. I went flying. I have no idea what happened to you but I'm hoping that you were not damaged and were able to continue.

Anyway, after that crash I quickly found myself about 45 seconds behind the next closest car. And seeing that I was several seconds slower than everyone else in front of me I knew there was no way I was going to catch up (even if there were accidents up ahead and I drove my best ever laps). So I retired, once again frustrated by my pitiful performance.

And with Rouen coming up next in the schedule, I don't see things improving much for me. Rouen is another long track where once again I will probably be losing several seconds a lap to the rest of field and will quickly find myself running laps alone. And as I've said before, turning laps by myself is something I can do any time without endangering anyone.

I'm slowly coming to the conclusion that the rest of you guys are all too fast and too consistent for me to compete with. My lack of speed forces me to get out of my comfort zone during races and that causes me to make mistakes. And those mistakes are not only detrimental to me but also to others as was proven last night when I ran into Rich.

So, once again, I'll warn you in advance about the red moving chicane that will probably be making an appearance at Rouen.

Take care,

Phil
---
Rich's Report: My race report begins with the unfortunate T1 crash and burn 'fest which I had originally envisioned happening at Buenos Aires, maybe it was ESP after all. After a qualifying session where I could not repeat my pb practice time in the high 1.35's I was thinking things were still off to a good start as I at least had managed a 3.36.152 which was good enough for 2nd place on the grid. Congrats to Kevin for an absolutely incredible pole time of 3.35.582!!! Honestly I don't know how he can go that fast at a track like Spa in the slower BT7. That is an obvious testament to a heck of a lot of driving SKILL!

So, on to the start, the green flag dropped and off we went. Kevin's grid slot seemed a few yards forward of mine but as we sped off I soon pulled alongside of Kevin and next would see his front wheels disappear out of sight as I inched past him. At this point we were fast approaching the dip and I dared not move an inch over to the right off my line for fear Kevin would still be close even though not visible in the mirrors. And this is where the contact was made, a review of the replay would show Kevin's front left wheel touch my right rear wheel just enough to start a horrific chain reaction. In retrospect it seems like the contact could have been prevented several ways: 1) I could have lifted off the accelerator, deliberately slowing down and let Kevin by, but since I had just seen his front wheels slip out of sight I knew I had edged ahead so didn't think lifting was the thing to do; 2) alternatively Kevin could have lifted and let me by; 3) Kevin could have remained more towards the right side of the track instead of drifting over to the left side of the track since it was likely that I or anyone else who happened to grid 2nd was going to be there; 4) use staggered grids with greater distances than what we used last night. Anyway, on with the race report...it seemed like forever before I could do a shift-R but eventually did and as I began to motor along again I found myself exiting Stavelot with good speed. Jeff and Phil were just ahead, I had exited Stavelot with enough speed to catch a draft from Jeff and as Jeff passed Phil, I did too. Phil you have my apologies for that contact right there. You had taken a wide line and therefore I thought you were intentionally letting us through, Jeff got by and it looked clear for me to follow but that's where I was wrong and we made contact. Very sorry for the collision, I misread your intentions. Well, that touch launched me into the air and when I landed would find myself having to make yet another shift-R while still on lap one. This race was pretty much over with and I had only completed half a lap. By now I don't know how far back I was, but because of the second shift-R I knew I'd have to do the penalty stop in the pits, which I did a few laps later but as luck would have it, even the penalty pitstop would turn chaotic because when I pulled into the pits and came to a stop in front of the black flag/sign it immediately disappeared. Had I pulled too close to the sign? I didn't know, those penalty signs almost never seem to work properly, or at least that's been my experience. So anyway, I tried backing up and pulling forward again a few times but it never would reappear. Without the sign I had no way of knowing when I could legitimately rejoin the race. I waited a while, not sure how long I was there since I wasn't wearing a wristwatch. Eventually I just pulled out of the pits and rejoined the race. My next laptime would show 4m10.719s so I guess I timed it just right if it was supposed to be a 30 second penalty. I couldn't recall having read a specific time on the League's website so don't know if 30 seconds was too much or too little time. And at any rate, without a working pitsign it was all just an estimate anyway. Also, I didn't remember that the penalty stop had to be made within 2 laps of the shift-R and I know I waited more than two laps to pit so I got that part all wrong for sure.

Bottomline, after the two resets and the pit stop penalty I was so far back that there was simply no chance of getting back to the front. So the rest of the race was mostly uneventful and no surprise to finish completely out of the points. Spa combined with Monaco makes for an ominous total of four collisions in just two races, not a very good trend and one that has allowed Bill to take the points lead away from me. Sure hope my luck changes and Rouen will turn out better. Congrats to the podium!

Best regards,
Rich
---
Kevin's Report: lol i was in the bt11 for spa.

Race was a complete waste. Got off to a normal slow start. On the run to T1 i kept looking left and no car was there. I also couldn't hear any sound from another car. On the approach i saw a green car go from left to right in my mirror. Since i couldn't see or hear any car on the left i figured it was Rich moving over for a better line into the corner. Just before turn i looked left again and still no car was there so i turned in. BANG !!!!!!! when the front 2 cars crash at T1 at spa race is basically over right then and there for everyone. No chance to make it thru.

Can only figure my connection and wasn't picking up the other cars. Been doing this long enough to know how to make it thru t1 without crashing. Completely ruined night for everyone.

Only interesting part for me was finding out that you can damage an engine and lose power in GPL. Who knew ? Been running since 1999 and never have had that happen. Car was a complete stone on the straights.

Kevin
---
9/26/06, Race #3 - Monaco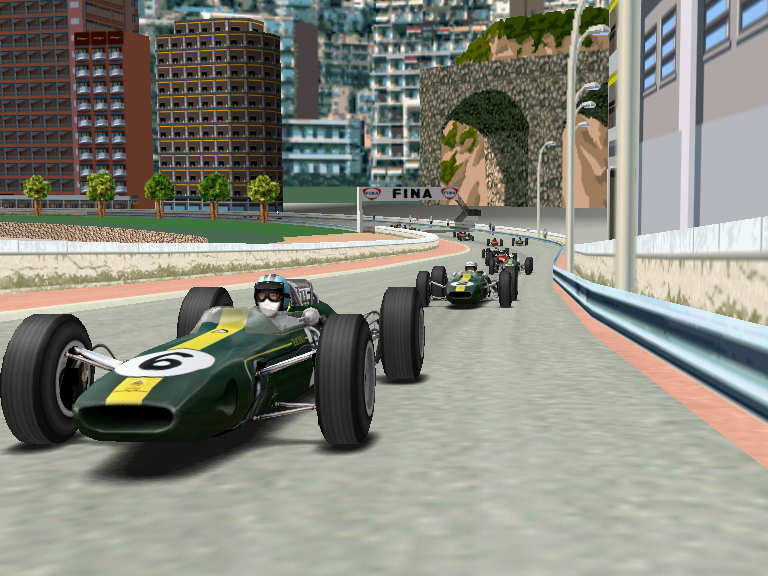 Rich leads the pack up the hill at Monaco.


Arturo's Report: Well, I made a very good qualy laptime, enough for 4th in the grid. I made one my slooooooow starts and so Charlie and JD passed me well before T1. I tried to keep their pace but I soon found a Ferrari spinning after the chicane and slightly touched it. I spun and finished the trip looking backwards right at the exit of Tabac ... a nasty place to see the crowd coming if there is one. After all the guys passed, I found I could not get out of the damn wall, so I had to shift-r and made the stop&go next lap. After that, I had a fantastic dice with Phil and Bob, while Tom was coming very fast from behind. After some laps of close action, Bob spun after the Station turn and I was right behind Phil. By then, I had crashed several times with the walls and something was not ok with the car and I could hardly keep it in the track. I spun again coming out of Tabac, shift-r and stop&go, there I went. Unfortunately, another Ferrari was recovering from a spin in front of the Casino, so to avoid it I crashed again. Time to park it :( By then I totally lost my concentration so I was not driving very safely.

I hope you had a great race since it looked like that while it lasted for me !!

AP
---
Charlie's Report: I felt very well prepared for this race, settling on the BRM and working up what I felt was a very stable and solid setup. Qualifying, however, was a bit of a dissapointment - I ended up 5th on the grid with a 1:30.45, just behind Arturo, but I knew from practice that I was capable of turning a high 1:29 lap. Qualifying is everything at Monaco, so I did not think it would bode well for the race.

I got a good start and was able to pass Arturo at the drop of the flag, but John King got an amazing hole shot and passed us both on the inside at St Devote. I slotted into 5th place and spent the balance of the lap trying to stay close to the lead pack without rear-ending anyone on cold tires. As it would happen, Rich and Bill Kutz came together at Gazometres at the end of Lap 1, causing a fairly severe pile-up. I was able to tip-toe through the wreckage, and emerged in 3rd place behind Bill and John.

Throughout the ensuing lap I was able to stay fairly close to John - knowing the performance edge the BRM possessed over the Ferrari, I thought I might have a chance to pass at some point. John fell victim to the Chicane on Lap 2, however, either brushing haybale or bottoming out at the foot of the hill. I was able to duck under his spinning Ferrari, and now found myself in 2nd place, about 2 seconds behind Bill.

For the next 7 laps the gap between Bill's Lotus and my BRM remained fairly consistent at about 2 seconds, although I was able to close at one point as Bill hooked a curb at Portier. Bill had easily beaten me in practice last week, so I was pleased to see I could at least stay in touch, although I doubted he was pushing as hard as he could. On Lap 9 Bill too fell victim to the Chicane. Once again I was able to slide past the spinnng car, and now I found myself in the lead.

Oddly, I wasn't happy at the prospect. 21 laps is a long time at Monaco (or any place, for that matter), and it was much easier chasing the leader than being the leader. I would have preferred this to happen much later in the race! Still, I had never lead an OFFRS race and didn't figure to very often, so I determined to make it as hard as possible for anyone to catch me.

The gap between Bill and I was now at about 6-7 seconds, with John King in 3rd place. To my surprise I was largely able to maintain the gap, and with 10 laps to go I still had about a 4 second lead. At about that point in the race I began suffering handling problems - I was losing grip through the slower portions of the course, which lead me to suspect I had overheated my tires (indeed, post race my left front had exceeded the magic 250 degree mark!). I began sliding and losing time, and Bill inexorably closed the gap, until by Lap 25 he was within striking distance. I just tried to ignore it, and concentrated on my own drive. On the run down to Portier on Lap 25 Bill did indeed make a lunge down the inside after the hairpin. I was slightly ahead and did not see him, and turned in to take the corner. We touched, but luckily neither of our cars seemed damaged. I maintained the lead, but I suspected the next 5 laps were going to be tough ones ...

At this point, I can only say that the Gods of Racing intervened and took pity on me. As Lap 25 came to a close Bill and I came upon a battle between Jim Sikora, Phil Gammon, and Tom Johnson. They had experienced some contact at Gazometres, and were still sorting themselves out as we came upon them on the Start/Finish straight. Phil quickly moved aside and I was by with ease, but as I approached St Devote I could see Jim's Cooper had spun and was partially blocking the track on the inside of St Devote. I was able to pass in stride on the outside of the corner, but Bill could not - in my mirrors it looked as if he had suffered a spin. I was not sure wether I had seen his car or Jim's however, so I kept my foot to the floor. My mirrors remained clear, however, and the pit boards soon indicated there had been some kind of incident, as I was now shown with a 8 second lead with three laps to go. I was not taking anything for granted, however, especially knowing how fast Bill was in the slower portins of the track, so I kept up my race pace, threaded the Chicane twice more, and finally was able to bring my BRM home to the victory!

I was fortunate to win, considering that the four cars ahead of me on Lap 1 all crashed at some point, allowing me past. In the end I was saved by an accident, for my tires were shot and my handling gone - had that last spin not happened, I suspect the results might have been different. Still, I'll take it. Thanks to Bill for a cracking race, and my thanks to everyone we encountered as we battled along the way - everyone was very generous in moving aside to let us through and continue our battle. I was never once held up by traffic. A great race indeed!

Thanks all!

Charlie Fox
---
Jim's Report: Sorry for mucking up anyone's race due to my spin at the end of the pit straight. I was nose first into the armco and would have to back out onto the track to get going again. Since I couldn't safely see if anyone was approaching, I decided to end my race rather than to risk backing into anyone coming up around the corner. Again, I'm very sorry (especially to Bill).

Jim Sikora
---
9/12/06, Race #2 - Buenos Aires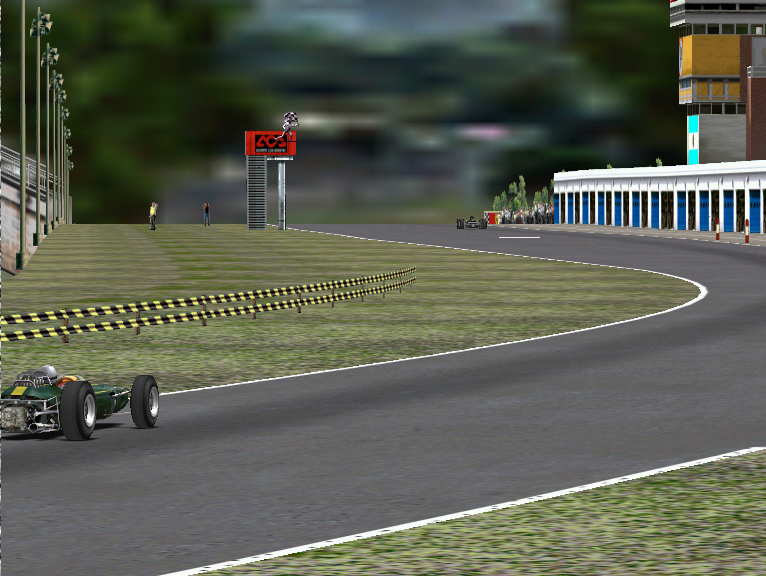 The margin of victory -- Rich takes the checker with Bill in pursuit.


Charlie's Report: BA 15 is a wonderful track - fast, flowing, challenging, and completely unforgiving. I was able to run in the 2:00s when practicing, but in qualifying I was just not able to match the effort, and found myself 4th on the grid with a 2:01.09. I got a good start but was not able to move up, and slotted into 4th place heading towards the Curvon. I was able to draft up on the leaders, and exiting Curvon made a draft pass into 3rd place. I felt contact from behind exiting the hairpin in the Mixtos complex, and found myself airborne. My Lotus landed undamaged and I was able to proceed, but I did see at least three cars come together in the aftermath of the incident.

I was now running 3rd, and moved up a spot as one of the leaders went off, but quickly threw it away, first running wide in the Curvon, then spinning on the downhill chicane at the Horquila. I was now in 5th, chasing Arturo, who was locked in a battle of his own. I was eventually able to catch up, and engaged in a duel of several laps with Arturo, at one point running 2-wide through Numero Uno. I eventually drafted clear, and except for a brief excursion through the grass in the Mixtos, the rest of my race was pretty uneventful. Given how inconsistently I was driving, 4th place is probably better than I deserve.

Thanks all for a fun race! Cyas next time.

Charlie Fox
---
Kevin's Report: I knew going in that it was going to be very tough to get a good result driving the BT7. The long straghts in the 1st half of the course would be the downfall.

Qualifying was tight and i managed to get pole by only .03 i think. I was pleased with the result since i was only able to get within .3 of my practice laps earlier in the evening.Rich and Bill also managed to get in good laps and were the other 2 cars in the 59's.

The start was a bloody disaster for me. To see the starter i had to use the look left button and thus couldnt see my tach. when the green drooped and i dumped the clutch i was to low on revs. The result was the field just shot past. I stayed to the right to give everyone room but i saw the ferraro in my mirrors having difficulty ( sorry about that ). I guessed i was somewhere between 6-8th when we got to T1. Going into the long double right hand sweep i layed back a bit to give everyone room. I wa sable to see that all the cars lined up in front were taking a wider line thru the second part of the curve. I took my normal line and got a hell of a run on the exit.

the draft i got from the ferrari in front of me was enough to keep the couple of cars behind from blowing past. I pulled out of the draft and got equal with the ferrari when the speed leveled off and we were left side by side down towards the kink. I stayed in tight but the ferrari was very fair and lifted to give me room on the exit. I broke early to try and avoid and pile ups. No good. Half way thru the hairpin it looked like 2 lotus got together and i couldnt avoid the flying cars. I spun to the inside and i saw atleast 2 cars sanke thru. ( good job avoiding the mess)

The next few laps was just trying to limit the damage and pass as many cars as i could. Had a nice dice with a ferrari who passed me into t1 only to have me drive arounds the outside on the entry to the long double right.

After that it was just finishing the race. I knew there was no hope of catching the front 2 cars. I was able to get fast lap 4 from the end and salvage another point.

Just wanted to say that everyone i caught comming back thru the field was very fair with me. Very clean and didnt force the issue with their faster straight line speed.

see everyone on the streets of Monaco.

Kevin
---
Phil's Report: My race was one of the worst efforts I've put in lately.

I had put in a fair amount of practice so I felt reasonably good going in. This feeling was supported when I put in a PB during qualifying to end up 8th on the grid.

But it was downhill after that. I just could not keep the car on the road. Try as I might I couldn't stop making stupid mistakes.

So after 8 laps or so I found myself in last place some 40 seconds behind the car in front of me. That's when I decided I'd had enough and retired the Ferrari to end the suffering.

Cya at Monaco where I will hopefully be a little more competitive.

Phil
---
Arturo's Report: I also did a PB in the qualy, enough for 5th in the grid, behind the fast gang :)

Considering the 4x3x4 grid, I started very slowly and I think I was passed by 2 or 3 cars. Fortunately, all went well through turn 1 all the way to the entrance of the Mixtos. As I started to turn, I saw a car in flames while some others looked like they had participated in a massive crash. Fortunately, I found a way to pass in one piece, so I was in 3rd in lap 1. Ok, I thought, calm down and let´s keep the pace while the fast guys come from behind.

  Soon, Kevin was right behind, followed by Charlie. I guess I could keep Kevin behind for one lap, with the help of the V12 of course 8) He tried the pass coming out of the Curvon. Seeing Charlie was not very close, I liffted off a bit a couple of times to let Kevin go ahead before the Ascari turn to avoid a crash that early. Away went Kevin soon, next came Charlie. He put some pressure but I could also keep him behind for a couple of laps. It seems that I was going well through the Curvon so Charlie did not get enough speed to draft there. I was very slow coming out of some turns, like what we call the Horquilla (last turn of the track), so Charlie made his move in from of the crowds at the main straight. Right before braking, I looked at my right and there was Charlie, so I tried to keep the car well through the outside of T1. Well, we certainly made an spectacular move, 2 wide all through T1/T2. While we were closing to the Curvon, Charlie had the inside so I lifted off a bit to make some room and there went Charlie in 4th. I could keep Charlie in sight for a couple of laps or so, and while trying to keep his pace, I entered a bit too fast the Curvon and my car spun. Tom was coming about 5s behind, so there went also Tom. Fortunately, the car got no damage and I could continue very quickly. Tom was in problems at the entrance of the Mixtos, so back again in 4th. I made a mistake later, so by then Charlie was about 12/13s ahead, and Jeff was 16s behind, I guess with 5 laps to go. From then on, I tried not to make any mistake so Charlie was enlarging the gap by about 1s per lap, while Jeff was closing it at almost the same pace. Lucky me I did no more mistakes and could keep 5th position when the checkered was shown :) Pretty intense race imo. If there would have been no problems in lap 1, I guess it could have been much better, but anyway, it was a good race at home 8)

  Off to Monaco now !!

  Arturo
---
Bill's Report: This BA15 race scenario seemed to me to be eerily similar to that at Kyalami. First, JWK's pole at Kyalami went for naught, with his L1/T2 off-course and then his early disco. Then he no-shows at BA15, even thought GPLRANK shows him with the only 1:58 lap recorded for BA15! It must have been quite important business to miss the race with those practice results.

Second, Kevin, on or near the pole for both races, had early contacts in each which left him well back of the lead only a lap or 2 into both races. Upon first look at the replay, I thought Kev intentionally took the slow start to enable evasion of the mayhem expected at T1 with the close packed grid. His telling of what actually happened makes it more understandable.

Third, my early contact at Kyalami dropped me well off the chase there. At BA15, my putting a wheel onto the Teflon-like grass exiting T1 on L2 started a 360 spin that ended up at least pointing in the right direction. And because of nearly everyone else's Mixon mixup, only Charlie got by before I got back up to speed. But again, I was now well off the chase of Rich.

Fourth, all of the above resulted in an unscathed Rich getting a rather comfortable early lead in both races, and proceeded to run the most consistent laps, by far, in each case to get both wins, with only Pribluda and the pit boards to let him know that others were still following at some distance behind.

Personally, I rather enjoyed running the race. After my L2/T1 loop, Charlie was well ahead, and it looked like a long chase to try to pull back up to him. But his Curvon-to-grass excursion (something I had extensive experience with in the 2 weeks practice!), made recovery of P2 much earlier than expected. From there to the end it was like a solo run, with no one seen fore or aft. I couldn't read the pitboards because they were too close to T1. Looking at them meant a shaky entry to T1, so I never chanced it.

Finally, in both races I ended up 5 or 6 seconds back in P2. I guess that's a result that I wouldn't mind continuing to often see.

Monaco now has to be faced. No more long straights for the Loti and Ferrari's to lord it over the BT7! I'm sure Kev and John will show up there loaded for bear. And Rich is also sure to be ready to extend his current winning streak. It should be fun to watch! See y'all there----.
---
JD's Report: JWK was out with connection troubles. I had mentioned it in the chatroom, but I was busy trying to get the track d-loaded and scurrying for setups that might work at BA15, so I'm sorry if JWK's no-show went unannounced. He was definately beside himself with dismay, not to mention a bit miffed that the cable company did not recognize the importance of the OFFRS race, those bastards!!!!!

After my 12-15 minutes of practice I was happy to slot in the top 10, and I got a great start too, moving up to 5th, I believe. But, I was caught up in the melee, not sure if I was warping or if it was a mutual thing, but my view showed plenty of room between the cars in front and I, but next thing I knew I was on my lid. That put a bunch of us way back. Later as I was settling into a groove, basically using the session as a test for the next time we might end up there, I found I was moving up through the order, on the verge of a points paying finish, and then.....BANG......my usually dependable lump had some sort of melt down. After a shift-R and a stop in the pits, I encountered TJ and we traded some paint and rubbed tires a few times as a way to quell our mutual frustrations at our performances and had fun running to the checkered flag.
---
John's Report: My BA15 experience: practice, practice, practice and then lose internet connectivity on race day! :-/

Comcast replaced a couple of splitters and that improved line performance. Then we found my router was near death. Now with that replaced I'm anxious to see if my loss of scoring and/or disco's are over.

Sounds like most of you had a good run. Congrats to the podium and Kfast for pole and fast lap. See ya at Monaco, hopefully.

JWK
---
Rich's Report: My apologies to Bill and Kevin during the post race chat session for my complete absentmindedness. I was in such a state of utter shock at having just won that I completely forgot my manners and failed to congratulate them both on their podium finishes. So hopefully better late than never-but here's my congratulations to both of you and special mentions for recovering and finishing so very well after some early mishaps. Bill surely recovered nice and quick considering his high speed spin and drove a good steady race thereafter to solidly secure second place on the podium. And what a great job Kevin did on setting the pole and fast lap in the race! That's especially notable considering the hp disadvantage of Kevin's BT7 on the extended Buenos Aires back straight! If he's that fast in the BT7 on a track with a really, looooong straight, something tells me we're in for a heap 'o trouble when we get to the short and twisty tracks. Oh did I say Monaco? Yep, I can hear Kevin quietly chuckling to himself right now.

As we lined up on the grid I was in a panic to see we were sitting four cars abreast and was pretty much convinced a T1 crash-and-burn 'fest was only moments away from materializing before my very eyes. The fact that we actually made it through T1 cleanly was really amazing and a testament to everyone's willingness to be careful-kudos to everyone!! As I would learn after the race things got hairy later on, that was unfortunate and when I watched the replay I saw something really strange. Server lag does the strangest things because in the replay Arturo's Ferrari passed unscathed right through a Lotus just like one would imagine a ghost walking through a solid brick wall. Pretty weird to see.

Can't help but notice what awful luck JW King has had in the first two races. Hopefully all those network issues are resolved and he will be present for the charge through the narrow, winding streets of Monaco. Should be a fun race there, looking forward to seeing eveyone then!
---
8/22/06, Race #1 - Kyalami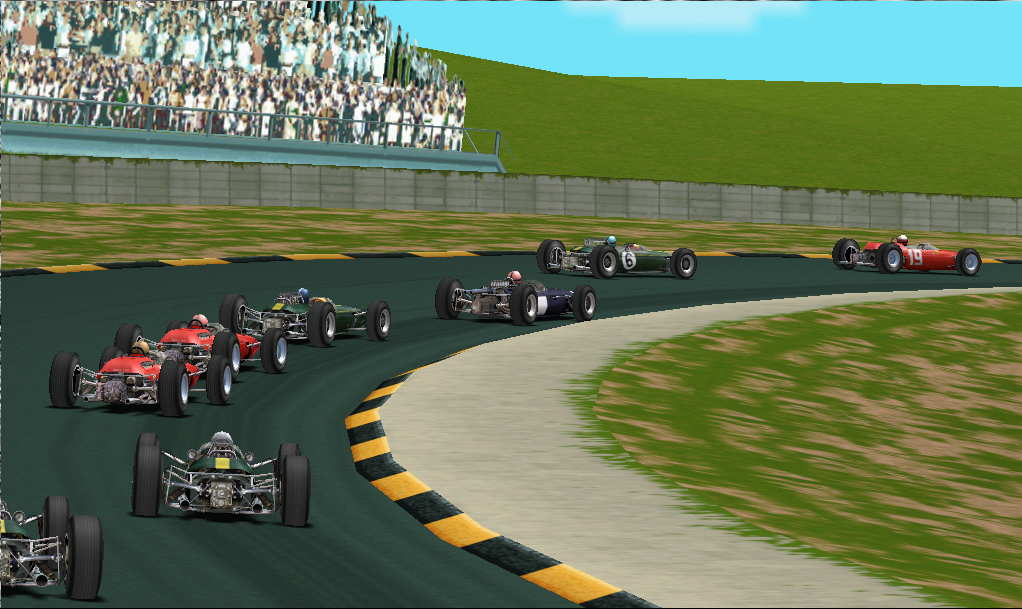 Turn 1, Lap 1

Phil's Report: I don't know if OFFRS does race reports but here goes anyway.

Had a pretty good race last night :-)

I qualified near the back of the grid as I was expecting. But I set a
new PB in the process so I was happy.

Ran fairly well off the start and gained a few places over the first
few laps as others had incidents that set them back.

Had some good racing with some of the old FATSO buddies (Jim,
Charlie, Bob, Arturo). Thanks guys :-)

But with 6 laps to go I started making some stupid mistakes and
dropped to the back of the pack. At this point in the race I really
didn't think I had a chance to regain any places.

So with the leaders coming up fast behind me (as close as 6 seconds
behind in places) I decided I would simply try to finish on the lead
lap, which I accomplished.

In the end it turned out to be a pretty phun race with quite a bit of
close racing from start to finish.

Cya next time,

Phil
---
Jeff's report: In qual I managed to get a 25.0 which was good for 5th, so I was feeling pretty good. Too good I imagine. At the start I was on the outside and as we entered 1, I kept it wide but not wide enough as I tangled briefly with someone making a move on the inside and ended up off track on drivers left. Back on track I figured I could keep touch with the group until I started my spinfest. Over the next 10 laps I managed to spin 4 times all by myself. Who setup my car anyway?? 11 or so laps of that and I was more of a hazard than anything so I decided to park it before it got expensive. Hopefully I've got the "bad" one out of my system.

It was really great to see such a large field.

Off to Buenos Aires.

---
John's report: It was good to have a strong turnout and I really enjoyed the qualification battle in spite of a bad connection and being discoed during that period. I was able to re-join just before the start. Great to get pole but humbling to know I only beat a Bt7 by 0.005 seconds, a car that I'm at least 1.5 seconds slower with at Kyalami. Great time Kev.
As for the race, I got a decent start, ran wide at T1 thinking someone was inside and then fluffed T2 letting several cars by. I was able to re-pass Kevin for P2 just after S/F and over the next few laps tried to settle into a rhythm but my connection was worsening and I got bounced out after 6 scored laps and 1 or 2 more laps while I must have been invisible. No one was showing on my Pribluda for a while.
Congrats to the podium and all finishers! Hope to see you all in Arturo land.
JWK
---
Bill's Report: It was great to see the expanded field for the start of the new
season. And Rich showed that his layoff from league competition
hadn't hurt his driving, with the most consistent lapping of the
entire field to get the win. John's disco, after earning the pole,
and while running second had to be the bummer-of-the-week, and we all
hope that it will be a problem not seen again---by any of us!

Personally, I had to be really happy with the second place
finish. Fourth is Q, but only 0.25 sec. off the pole, it looked like
I might be able to keep the leaders in sight for much of the race.
And somewhat to my surprise, I found that I was able to close up on
Kevin (an extreme rarity!!) in an early lap, and get a good draft
early on the long straight for the pass. The rejoicing was short
lived, however, as Kev tucked back in behind me, and probably
overrevved the BT7 to attempt the repass entering T1. The resulting
contact dropped me back to 6th, and Kev even further back. I would be
seeing him later.

When I saw P6 on the pitboard, it was actually encouraging, as I
thought it would be worse then that. There was only one car visible
in the far distance, the Bob B Lotus, and it was a lap or two before
I could see that the distance was closing. Once past, JDK's Ferrari
was several seconds ahead, and probably a third of the race laps were
needed to get close. Passing seemed to be not very likly as the
Fazzaz seemed to have more beans on the straight, but when the Red
one got a bit sideways entering the long straight (and almost
collected me in the process), a minor detour through the grass got me
by, and into P3 (thanks to John's disco).

About this time Kev showed up in 4th, just 3 sec behind, and the
next lap the lead was already down to +2. Tom, nearly out of sight
ahead, seemed out of reach to race end, so my concern was Kev closing
in rapidly. Trying to bear down a bit harder, I was rather surprised
to see the lead over Kev to go back to +3, and remain there for
several laps. Perhaps even better, Tom was getting closer!! With
about 5 laps left it looked like I might catch him. With about 3
laps left, I was able to draft him going into T1, and looking at the
replay, almost blew a really good personal run, getting way too close
to Tom on the pass. It gives me the willies watching it. My
apologies, Tom, I'll try being more careful next time. I should have
known better----.

Looking at the race results, I had, by far, the scraggliest
lapping, with 17 or the 24 laps off-course! And I thought I was
doing rather well-----its a good thing that "style points" aren't a
factor in this game.

Next race is on Arturo's turf. It'll probably be somewhat cooler
there this time of year. Hope to see you all there.
---
Arturo's report:
Bummer JW.
I had a terrible qualy since I was more than 1s above my PB. The day before I was lapping in the low 25s with ease, but I guess the weather might have changed at Kya, so the carburetors ... you know ;)
The start was very good and but I spun after avoiding another Ferrari that was coming into the track after T3. A couple of cars passed me and I was right behind Jeff for some laps. After getting advantage of others spinning, I was up to 7th I guess, or even 6th, with Charlie 9s ahead, all this by mid race. I guessed it would have been quite difficult to catch an inspired Charlie, so I kept my pace. We were having a good dice with JD, when I came a bit too much fast from T2 and lifted off a bit to avoid spinning. JD could not avoid rearending me, so my Ferrari took off for some meters, but fortunately landed properly without the need of ILS 8)
I was behind Phil for some laps. I was faster at some sections, but it was very difficult to close the gap (great driving Phil !!!). Unfortunately, Phil made a mistake coming out of T1 and I could pass him. Now behind Jim and his Honda. Since there were few laps left, I begun to push hard to close the 5s gap, but Jim was also inspired, he made no mistakes and so we arrived to the checkered flag :)
Good race overall, in spite my mistakes. Traffic all around and I could finish in the same lap of the leader, which was a big achievement for sure :))
Off to BA now =)
Watch out guys !! Local fans would hate to see other car than a Ferrari winning ;)
Just in case, I made the proper reservations at 5 stars hotel, first class restaurants, the stock of red wine, specially Merlot for Bob, is assured, good cigars and [CENSORED BY LOCAL OFFICIAL WIVES&GIRLFRIENDS SOCIETY] ........... 8P